Quite flushed with excitement, we arrived at the Macadamia estate a good deal later than was expected. This estate has a wonderful mosaic of forest patches, overgrown gullies and farm dams, with a variety of wetland habitats.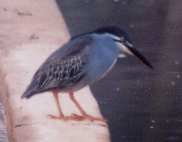 We spent some time watching a male African Jacana, which carried a youngster tucked under it's wing and also saw Cape Batis, Purple-crested Turaco, White-fronted Bee-eater, Thickbilled Weaver and Horus Swift. Several doves called in the area, and we were able to track down the most interesting one and hit the jackpot as we had cracking views of a Blue-spotted Dove, which sat and called from an obvious perch.

We also had a distant and inconclusive view of the Sooty Falcon, which had been spotted the day before. Other raptors in the area included a soaring African Crowned Eagle and several Long-crested Eagles. After a healthy breakfast, set out by Rob, we went in search for Dwarf Bittern, but to no avail. We did located a beautiful Black Indigobird (Widowfinh) and then headed towards Letaba to visit Jacana Dam - where lesser Jacana had been present for some time.
We were not to find any Lesser Jacanas, but enjoyed the view of several Little Bitterns that seemed to be playing hide 'n seek among the reeds, before heading back to Luonde Lodge for some well earned rest.

On the afternoon schedule was another boat trip on Lake Luonde (seems a more fitting name than Albasini Dam!). This was to be a longer trip and we were able to search the lake more thoroughly for birds. We got much better views of Northern Hobby roosting on a dead tree on the lake, and also saw a wide variety of ducks, herons and waders, as well as African Fish Eagle and three kingfisher species.

One of the more interesting sightings was that of seven little egrets which fished together in the shallows and appeared to be blowing bubbles into the water to attract fish!! I had a good close look and was not sure if it was bubbles being blown, or whether the birds where just vibrating their bills in the water. Rob assured us that they had had better and closer views previously and that these birds were definitely blowing bubbles!! Whatever the exact process being followed this seems to be a fairly unique mode of fishing!

Once again the sunset saw the arrival of the hobbies, but once again, we only recorded Northern Hobby. This was a special evening trip and once the sun had gone down we spent a magical two hours on the boat, while Rob and Charmaine treated to an excellent braai. The Luonde boat was well equipped for a superb evening - probably the best floating birding pub in all of Africa!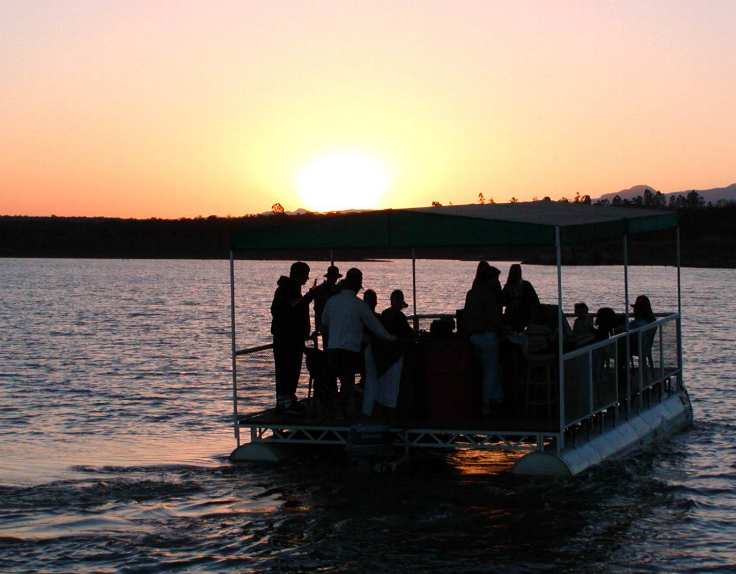 Sunday 22 February

Sunday morning saw us getting out a little later than Saturday. The focus of this morning was on a visit to Entabeni Forest. This is a temperate mistbelt forest, and Entabeni is one of the wettest places in South Africa. On the way there we stopped only once - for a fantastic view of yet another Northern Hobby. We went almost straight away to a spot recommended by Rob for Orange Ground-Thrush, which was the main target bird of the day. As we arrived at the spot an Orange Ground Thrush was heard singing close to the track, and a few of the party managed to get glimpses of this bird. We spent quite a while searching, but not everyone saw this bird, which seemed to have been replaced by a Choristor robin-Chat,. We then spent some time working a nice patch of canopy forest, where Knysna Turaco and Cape Batis where heard calling. Another Orange-ground Thrush was calling from a deep gully and Rob led us down a small track, which came in from the other side of the stream, and from that spot we were able to get absolutely stunning scope views of the Thrush in full song. We then walked further into the forest and for a while played cat and mouse with a group of Green twinspots, which were just too quick for everybody to get onto them easily. Most of the group eventually had satisfactory views of this little gem, before we moved on to look at Yellow-streaked Bulbul, Olive Woodpecker, Lesser double-collared Sunbird and Yellow-throated Woodland Warbler

We then headed back towards Luonde, birding a lower patch of forest, where Cinnamon dove and Mountain Wagtail were also seen.

We got back to the Lodge in time for a hearty brunch, and went through the birdlist so far, which stood at over 150 species for the group as a whole. After brunch, most of the group split up to do their own thing, and Christy Cook and myself went on drive to visit Spies Dam some 20km west of Makhado (Louis Trichardt).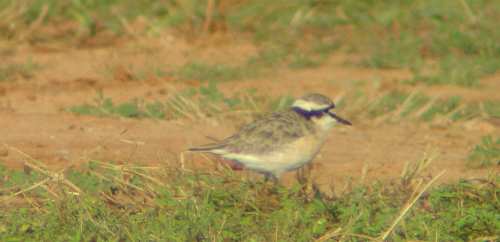 As one heads west of Makhado the road takes one through brooding hills, before getting onto flatter country as one skirts the southern edge of the Soupansberg. It is drier here, and we found the habitat around Spies Dam really interesting. The Dam itself had plenty of waterbirds, including herons, spoonbills and a number of Abdims and White storks as well. Here we also recorded Kittlitz Plover, Comb Duck and Spurwiing Goose. A flock of Common Swift swooped about, and bush birds included Long-billed Crombec, Orange Breasted Bush-shrike and Common Whitethroat, while neighbouring open country had Desert Cisticola and Rufous-naped Lark.

At sometime after 13h00 on Sunday everyone was on their way home - some via Magoebaskloof to try and see the Grey Wagtail which had taken up residence at Debengeni.

All in all a very successful weekend with the highlights being African Hobby, Blue Spotted Dove and Sooty Falcon, with African Broadbill and Orange Ground Thrush coming a close second.

Luonde Mountain Lodge is an excellent base to explore the birds of the Soupansberg and Albasini Dam area. We recorded 196 species in about 3 days, and an early summer visit, would undoubtedly be even more productive.