Full bird list (For the trip)(Excel - 52 KB)
Birders Checklist for Mapungubwe (PDF - 62 KB)
Join our 2007 Trip to Mapungubwe (8-11 February)
or download PDF information sheet on our 2007 trip HERE


Full Report


This trip report covers a visit to Nylsvlei and Mapungubwe by Etienne Marais and Pat Adams (Who took the photos). This served as a reconnaissance trip for Indicator Birding, and proved that this is indeed one of the finest birding areas in the Southern African region.

Mapungubwe National Park is a new park which in the Limpopo river valley, and which will form part of a continuous conservation area extending into parts of Botswana (The Tuli Block) and Zimbabwe. From a birding point of view, it offers a range of habitats and a host of specials.

The trip was from 13-16 March. Three days proved to be insufficient to do full justice to the Mapungubwe area, let alone explore all the excellent habitats on offer. Nevertheless we were able to sample some of the excellent birding in both areas, and recorded some 240 species.

The Nylsvlei floodplain has been fully inundated,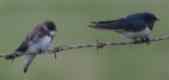 and water continues to flow strongly from recent rains. Here we recorded species such as Allen't Gallinule, Lesser Moorhen, Dwarf Bittern. In the early morning, large numbers of Herons were seen flying down the wetland including numbers of Great Egret, Purple Heron and Black-crowned Night Heron. Marsh Owl was seen quartering over the wetland and large flocks of Barn Swallows included a number of Sand Martin. Other birds seen in the area included Chestnut-vented Tit-babbler, Village Weaver and Burchell's Coucal. Despite the large numbers of herons present, some species were few in number (Dwarf Bittern) and others such as Black Heron appeared absent, which suggest that until these species arrive in 2 weeks time, the Kgomo-kgomo floodplain may be a better bet for sub-tropical wetland birding.

The road North to Mapungubwe


From Nylsvley we head north via Polokwane. The flat land just north of Polokwane looks perfect in places for Short-clawed Lark, but we did not pause until we had gone through Vivo where dry-country birding is excellent. Here Barred Wren-warbler and Crimson-breasted Shrike can be heard calling, and Pale-chanting Goshawk are regular along the poles alongside the road. We also saw Great Sparrow and many Amur Falcons in this area. We arrived at Mapungubwe at about midday and after checking in at the main gate, proceeded for 6 km towards Leokwe camp.

With the rains, Mapungubwe was very green and on arrival the weather was cool and overcast and the bush alive with activity. Fawn-colored Lark were seen - here in a much more orange-red form than the birds in Gauteng. Soon afterwards we ran into some bird parties which hold a range of species such as Crombec, Chin-spot Batis, Burn't necked Eremomela and Brubru. In areas of open flattish woodland with small trees, Monotonous and Sabota Larks are very evident, along with Carmine Bee-eater and Red-backed Shrike.
Leokwe Camp and the Eastern Sector

Leokwe camp is set amongst rocky outcrops, andthe small valleys between the outcrops have mopane scrub and mixed woodland. The camp is in a wonderful setting and the design, spaciousness and atmosphere of the self-catering units here sets a new standard for Parks accomodation. We stayed in a family unit and were presently surprised at the luxury of the unit and particularly enjoyed the open-air showers! The rock formations and wilderness feel of the camp are also wonderful. By far the dominant bird in this area is the Cinnamon-breasted Rock Bunting.
Unit 18 is superbly situated in a rocky and scenic valley!
The camp area itself produced numerous excellent views of Verreaux's Eagle, Purple Indigobird, Tropical Boubou, Mocking Cliff-chat, Rock Kestrel and Wahlberg's Eagle. At night Freckled Nightjar were heard around the camp.

The woodland between Leokwe and the Confluence Viewight was also very productive, and one tree had three species of Woodpecker and Scimitarbill in it.
Purple Indigobird (Digiscoped)
| | |
| --- | --- |
| A view of the confluence of two great rivers: | |
The Confluence look-out has a number of viewing decks which provide great views across the rivers below and give a birds-eye view of this beautiful area. Here we saw species such as Grey-headed Bush-shrike, Rock Martin and Grey-backed Camaroptera. It was very overcast and given sunny weather would no doubt provide far more raptors - indeed the whole area with its rocky valleys and rugged rock outcrops interspersed with large Baobab and riverine forest trees looks like a raptor paradise.

In the surrounding area Meyer's Parrot are common and so were Southern Carmine Bee-eater, Red-backed Shrike and Meve's Starling.

The Limpopo River itself was in full spate and although waterside birds were few, we did see African Fish-eagle, Wire-tailed Swallow and Common Sandpiper.
The aerial boardwalk which goes to the hide overlooking the river is a wonderful place to do some riverine woodland birding, and the birding was good here, with large numbers of Meve's Starling, Broad-billed Roller, Barred Owlet, Retz Helmet-shrike, Ashy Flycatcher, Violet-backed Starling, Brubru, many White-fronted Bee-eaters and an Icterine Warbler.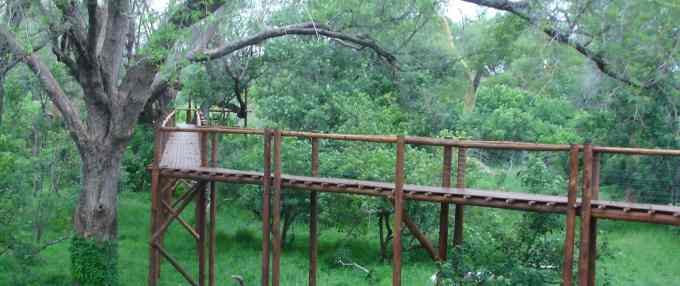 Limpopo Tented Camp and the Western Sector

The Limpopo Forest Camp is set in the middle of an extensive area of riverine forest, and offers good birding too. It also offers easy access to a great variety of habitats, including areas of grassland and thornveld savannah.

A late return from a drive found us out at dusk and we had a remarkable session of Courser viewing, which included at one point about 5 Bronze-winged Coursers and 4 Three-banded Coursers at the same time.

Three courser species in one afternoon makes this one of the best places anywhere for coursers!
Three-banded Courser along the road - one of 4 birds!
The Beautiful Temminck's Courser on the plains

---
After dark had fallen, four species of owls were heard calling from Limpopo Tented Camp which included Scops (by far the most common), Southern White-faced, Barred and Pearl-spotted. Monotonous Lark and Kurrichane Button-quail where both also heard calling during the night.

The dawn chorus in the grasslands on the way to the Maloutsa Pan hide was rather special, with wonderful backing from many Monotonous Lark, bass from hundreds of Kurrichane Button-quail and a family group of Ground Hornbill, a medley of percussion from Harlequin Quail and electric guitar solo's provided by punk-rocker Wattled Starlings, which hurried busily about the plain nest building and courting.

The walk to the Pan hide took us through a lot of ephemeral wetland habitat, which was mostly fairly quiet, but we did hear Dwarf Bittern calling from a section of the pan which is out of sight.

Other birds recorded in this area included Grey-hooded Kingfisher, Crimson-breasted Shrike, African Mourning Dove, Greater Honeyguide and Olive-tree Warbler.
Monotonous Lark - these birds create a wonderful chorus after rains have fallen
Typical species around the Limpopo Forest Tented Camp included White-browed Robin-Chat, Woodland Kingfisher, Grey-backed Cameroptera, Ashy Flycatcher, Tropical Boubou and Yellow-bellied Greenbul.

Open, drier areas held Temminck's Courser, Scaly-feathered finch, Chestnut-backed Sparrowlark, African Pipit and Lesser-Grey Shrike. The large numbers of Wattled Starling are commencing breeding in an open area towards the pan hide and this might act as an attractant for raptors in a few weeks.
Wattled Starlings bathe in a puddle

---

Raptors in the Limpopo Tented "Sector" included several African Hawk Eagle's, a pair of Gabar Goshawk, Both Snake eagles, a number of Amur Falcons and a single female Red-footed Falcon. Overall a fantastic weekend birding with 240 species recorded, 183 within the Mapungubwe area in just two days of birding, which is remarkable considering that waterbirds, herons and shorebirds were hardly represented.

Etienne Marais

For an easy print PDF version of our 2007 trip CLICK HERE , or go to the HTML web-page on our 2007 trip (February) HERE.

See also our short trip report from our May 2006 trip here.