Digiscoping Gallery 1 | Digiscoping Gallery 2
---

Digiscoping provides birders with the opportunity of capturing some of their experiences and recording some of their sightings cheaply, and without the need to go seriously into photography. I can honestly say that I have never spent any real time trying to get good shots, but have simply captured images in the course of normal birding.

Of course one is unlikely to win any photographic awards like this, but if your main interest is birding, and you would also like to do some casual photography, then digiscoping is for you. The combination of a good quality fieldscope and a digital camera is what digiscoping is all about.
---
These images were captured using a Nikon Fieldscope 60, with a fixed 30X Wide Angle lens. The adapter I use is a home-made adapter made out of the lid of a deodorant can. The camera is a Sony Cybershot DSC-P10 (5 megapixels)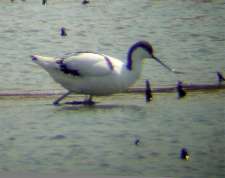 .
---
When a bird appears to be showing well, I simply turn the camera on and hold it in place with the adapter (you can continue to use the scope with the adapter in place - it makes hardly any difference to normal viewing). Focus is tricky and I have found the best solution is to set the camera focus on infinity, centre focus. First focus the scope sharply

for the naked eye. Then fit the camera, and re-focus the scope until the image in the LCD appears sharp.
---
From experience I have found that the best images require morning or late afternoon light, and preferably some good contrasty background. If it doesn't work out it is easy to delete, delete and delete!
---
My favourite shots





---
©Etienne Marais 2004
---
HOME | Digiscoping Gallery 1 | Digiscoping Gallery 2 | Other Bird Images