Botswana, Caprivi, Northern Namibia (Cunene) and Central Namibia 28 Oct - 13 Nov 2010

If you are interested in this trip, please Book/Ask for information here.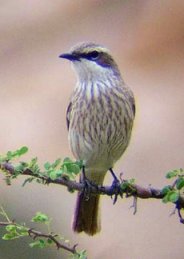 Introduction

One of the ultimate birding trips in Southern Africa, this 17 day mega-trip trip takes in the Caprivi Strip, Okavango panhandle, Ruacana and then heads down to Hobatere Lodge, the Brandberg and Swakopmund. Our last birding stop is the Erongo Mountains before embarking on a long drive back to South Africa via the transkalahari Highway. Etienne Marais will be in the area in September, with a group of UK birders, so this trip will be refined on the basis of the latest gen.

The trip can be done as a self-drive guided tour, or you can travel with the leader in 4x4 or minibus (depending on numbers)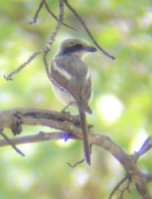 The focus of this trip will be on a shortlist of specials including the following:

Burchell's Courser, Rock Pratincole, Damara Tern, African Skimmer, Grey-headed Parrot, Rüppell's Parrot, Schalow's Turaco, Coppery-tailed Coucal, Senegal Coucal, White-browed Coucal, Bradfield's Swift, Madagascar Bee-eater, Racket-tailed Roller, Violet Wood-Hoopoe, Damara Hornbill, Monteiro's Hornbill, Benguela Long-billed Lark, Dune Lark, Gray's Lark, Carp's Tit, Rufous-bellied Tit, Black-faced Babbler, Bare-cheeked Babbler, Rufous-tailed Palm-Thrush, Herero Chat, Greater Swamp-Warbler, Rockrunner, Luapula Cisticola, Wood Pipit, Souza's Shrike, Swamp Boubou, White-tailed Shrike, Sharp-tailed Starling, Shelley's Sunbird, Dusky Sunbird, Northern Grey-headed Sparrow, Chestnut Weaver, Brown Firefinch and Cinderella Waxbill.
---
Itinerary Outline
Day 1 Gauteng to Francistown.
Day 2 Francistown to Kasane
Day 3 Kasane to Katima Mulilo
Day 4 Katima Mulilo full day
Day 5 Katima Mulilo to Popa Falls
Day 6 Popa Falls and Mahango Game Reserve
Day 7 Popa Falls to Rundu
Day 8 Rundu to Ruacana
Day 9 Ruacana
Day 10 Ruacana to Hobatere
Day 11 Hobatere
Day 12 Hobatere to Brandberg
Day 13 Brandberg to Swakopmund
Day 14 Swakopmund to Usakos (Spitzkoppe)
Day 15 Spitzkoppe to Windhoek
Day 16 Windhoek to Kalahari Rest
Day 17 Kalahari Rest to Gauteng