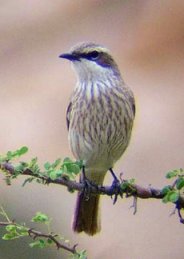 Join Neil Mcleod and Etienne Marais on a fantastic birding trip which takes in the best of Northern Namibia. This trip aims to provide views of virtually all the Namibian specials, but particularly the Angolan Cave Chat, which was discovered to be resident in Namibia in 2012. This 11 day trip is run in conjunction with Safariwise in Namibia, and provides an excellent opportunity to see some of the more tricky Namibian specials such as Dune and Gray's Lark, Herero Chat, Black-faced and Bare-cheeked Babblers, Cinderella Waxbill, Hartlaub's Spurfowl and Grey Kestrel. Destinations include the endemic rich and scenically spectacular Erongo Mountains, as well as the shorebird rich coastline around Swakopmund and Walvis Bay. We also visit the Spitskoppe, The Brandberg and the Kunene River as well as the Waterberg National Park. Most importantly we have two days to bird the Zebra Mountains in Northern Namibia. The trip starts and finishes in Windhoek, which makes for a shorter trip than is usual for this part of the world.




The focus of this trip will be on a shortlist of specials including the following:

Augur Buzzard, Grey Kestrel, Hartlaub's Francolin, Ludwigs Bustard, Rüppell's Korhaan, Red-necked Phalarope, Burchell's Courser, Double-banded Courser, Red-necked Phalarope, Namaqua Sandgrouse, Damara Tern, RÜppell's Parrot, Damara Hornbill, Monteiro's Hornbill, Olive Bee-eater, Violet Wood-Hoopoe, Bradfield's Swift, Rosy-faced Lovebird, Benguela Long-billed Lark, Dune Lark, Stark's Lark, Gray's Lark, Karoo Eremomela, Carp's Tit, Black-faced Babbler, Bare-cheeked Babbler, Hartlaub's Babbler, Rufous-tailed Palm-Thrush, Herero Chat, Tractrac Chat, Angola Cave Chat, Rockrunner, White-tailed Shrike, Dusky Sunbird, Chestnut Weaver, Yellow-bellied Waxbill and Cinderella Waxbill.
---
Itinerary Summary
Day 1 Fly to Windhoek - transfer to Swakopmund
Day 2 Walvis Bay and Swakopmund
Day 3 Swakopmund to Omaruru via the Spitzkoppe
Day 4 Omaruru to the Brandberg
Day 5 Brandberg to Rustig Toko
Day 6 Rustig Toko to Kunene
Day 7 Kunene
Day 8 Kunene to Ruacana
Day 9 Ruacana to Etosha
Day 10 Etosha to Waterberg
Day 11 Waterberg to Windhoek (early am) fly out midday


Checklist of species recorded on our 2013 tour - Download List
---
Book/Ask for information regarding pricing and booking here.

Of course you may want to think about Mozambique too!