Three Rivers tour (Caprivi/Okavango (02 - 12 October 2017).

This tour is titled The Three Rivers tour , since is it provides great opportunities to bird alongside three great river sysems of South-central Africa. Join Etienne Marais on a fantastic

Interested ? please Click here for more info!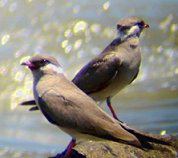 birding trip which takes in the best of the Caprivi (now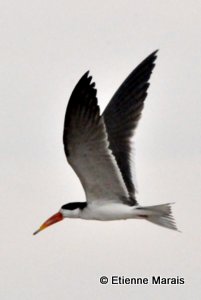 Zambezi Region), Okavango and Chobe as well as the incomparable Victoria Falls. This 11 day tour is designed to maximise birding quality in a compact tour across the regions finest waterways and scenic attractions. The tour includes a slice of Namibian endemics at the Waterberg and then heads eastwards to experience some of Africa's greatest riverine and wetland birding! Time will also be spent in the rich woodland of the Caprivi (We stay at the beautiful Mobola Lodge on the river) and on the Zambezi near Katima Mulilo.

The tour is conducted in conjunction with Safariwise Namibia in specially modified safari vehicles which allow for a comfortable trip where everyone has great views. In addition it includes no less than SIX boat trips on the Okavango, Chobe and Zambezi rivers!! The birdlist will leave your birding friends green with envy!

This 11 day trip starts in Windhoek, and ends at Chobe. The trip offers a host of sub-tropical species and regional specials. Top birds include Rock Pratincole, Souza's Shrike, Carmine Bee-eaters, African Skimmer, Brown Firefinch, Long-toed Lapwing, Western Banded Snake-Eagle, Slaty Egret, Rufous-Bellied Heron, Wattled Crane, Sharp-tailed Starling, Burchell's Sandgrouse, White-backed Night-Heron, Schalow's Turaco, Lesser Jacana and Pel's Fishing-Owl. We will also make a special effort to see Yellow-throated Leaflove and Shelley's Sunbird.




Itinerary Outline
02/10 Flight to Windhoek - Waterberg Plateaux Park
03/10 To Rundu - Kaisosi river Lodge
04/10 Mobola Lodge, Caprivi
05/10 Mobola to Mahangu Safari Lodge
06/10 Okavango Delta Boat trip - Mahangu Safari Lodge
07/10 Mahangu safari Lodge
08/10 Mahangu to Katima Mulilo (Kalizo Lodge)
09/10 Katima Mulilo
10/10 Chobe Safari Lodge
11/10 Chobe Safari Lodge
12/10 Fly out from Vic Falls/Kasane

Interested ? please Click here for more info!