VRYSTAAT !! A report and images from a 5 day Free State trip.

30 September 2006

The diversity and beauty of our wonderful country never ceases to amaze me. Living in Gauteng as we do, we often forget just how priveleged we are to have over 600 species available within 4 hours of us. One of the less explored regions is the Free-state, which has the reputation of being flat and boring. Nothing could be further from the truth, and last week, together with Pat Adams from the UK, I had the pleasure of sampling just a few of the delights of this less famous birding province.


Day 1 - 2 October '06 Harrismith to Witsieshoek

We started out in the upland grassland areas near Harrismith,

where thanks to some good gen from Dave Weaver had a few hours of excellent birding in the mid-afternoon. Birds seen included Spike-heeled Lark, an excellent flock of Southern Bald Ibis, low flying Alpine and African Black Swift and over-passing Botha's Lark, which unfortunately did not pause to allow views. We enjoyed a pair of Blue Korhaan foraging in the fields before proceeding further on to the western side of the highway where we found over 70 Blue Cranes congregated around a dam. Beyond Harrismith, on the road towards Sterkfontein Dam a pair of Grey Crowned Crane occupied a small dam close to the road.

Spike-heeled Lark

Spectacular mountains at Sentinel
After passing through the urban areas of Phutidijaba we arrived at Witsieshoek, but not before seeing a pair of close-up Grey-winged Francolin. We had been warned to expect snow and the weather was not pleasant, but we ventured up the spectacular drive to the Sentinel, anyway where the mountains were veiled in mist and the haunting cries of Wailing Cisticola were heard on the cool slopes.
Day 2 - 3 October 2006

Mountain weather is unpredictable and thick mist blanketed the mountain until after 9:00 when we were afforded a few brief breaks in the gloom along the road to Sentinel. White-necked Ravens, Wailing Cisticola and Long-billed Pipit were in evidence on the mountain. We also saw Jackall Buzzard and Rock Kestrel, before coming across a pair of Drakensburg Rockjumper on the last bend before the Sentinel "check-point".



The stunning Drakensburg Rockjumper

The superb Bearded Vulture in flight (Lammergeier)
We paid a visit to the Fiko Patso dam area where Southern Boubou, Rock Kestrel, Jackall Buzzard and many swifts were in evidence. Large numbers of Malachite Kingfisher appeared to be feeding on the hillside and a nice male Buff-streaked Chat was also seen. In the early afternoon we headed up to Golden Gate National Park. En route we encountered several Cape Vultures and a soaring Bearded Vulture. A drive up the feeding station at Golden Gate produced two more soaring Bearded Vultures, Secretarybird, Ground Woodpeckers, Wailing and Le-vaillant's Cisticola and Jackall Buzzard. After doing a drive we returned to the area and saw no less than four Bearded Vultures (1 adult) in the distance, one of which afforded close up views. At the camp Cape Rock-thrush, Cape Canary and Bokmakierie were in evidence and after dark two Cape Eagle Owls could be heard hooting from the mountains above.


Cape Weaver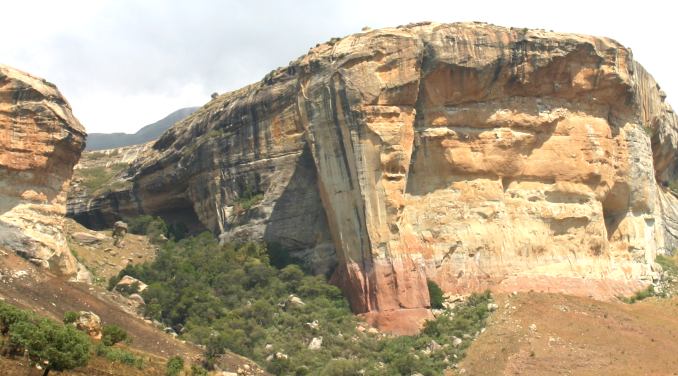 The Splendours of Golden Gate National Park
Day 3 - 4 October 2006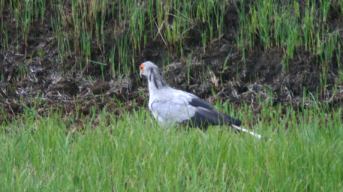 A windy and cloudy start to the day limited good birding, but we had more views of Bearded Vulture, Secretarybird and Ground Woodpecker. After breakfast we headed westwards and took the very scenic eastern free-state drive via Fouriesberg. We then headed north-west towards Ventersburg, and a stop produced some nice birds including what seem to look and sound like Orange-river White-eye and a nice Fairy Flycatcher.

We arrived in the Sandveld area and were immediately treated to the sight of typical thornveld species such as Magpie Shrike and Southern Yellow-billed Hornbill, while Orange-river White-eye cheerfully warbled near the chalets.. A drive in the reserve revealed that large areas of grassland had a recent burn - which held a lot of promise for the next morning.


Day 4 - 5 October 2006

A full day was spent exploring Sandveld Nature Reserve. The burned grasslands were alive with activity from Ant-eating Chat, and there was a good chorus from displaying Eastern Clapper Lark, high altitude Red-capped Lark and many Northern Black Korhaan. A pair of Greater Kestrel hunted over the grasslands and quite a few small mammals, including Yellow Mongoose, Suricate Meerkat and several crouched Steenbok were seen. Large mammals were in abundance in this reserve which has a very healthy looking population of Sable, many White Rhinocerous and Tsessebe and Giraffe as well.


Pearl-spotted Owlet



1..2..3..Launch!! - Northern Black Korhaans display flight.

Woodland areas produced birds such as Pririt Batis, Ashy Tit, Common Scimitarbill, Marico Flycatcher, Cape Penduline-Tit, Black-chested Prinia, Golden-breasted Bunting, Crimson-breasted Shrike, Pearl-spotted owlet and Brubru.

We also spent some time watching the feeding activity at one of the many awesome Sociable Weaver nests found in the area.



The amazing communal nest of the Sociable Weaver

The water levels were very high resulting in a disappointing showing as regards shorebirds, but we found a small pond separated from the main lake which was packed with hundreds of birds, mainly Ruff and White-winged Tern, but also large numbers of assorted species including Greenshank, Curlew Sandpiper, Little Stint, Common Ringed Plover and others. In an area of more open woodlands we had good views of Yellow-bellied Eremomela, Barred Wren Warbler, European Bee-eater and several of the local race of the African Pipit, that seemed to have a great preference for sitting on trees. We also went in search of the Tinkling Cisticola, and found one in open acacia thornveld with a grassy understory on the far side of the reserve (on the furthest loop from the camp area). A brief visit over the border in the Bloemhof Dam NR produced some great extra birds in the form of Double-banded Courser, Pink-billed Lark and Orange River Francolin.
Day 5 - 6 October '06 Sandveld to Barberspan

Day 5 We travelled north-west- to Barberspan, which can easily be combined with Sandveld/Bloemhof. En-route we had a few good birding stops, including one for a very busy birding patch just outside Schweizer-Reneke, where White-fronted Bee-eaters hawked next to the road.

Near Migdol a road-side pan produced a host of waterbirds including Greater Flamingo, Fulvous Duck and Comb Duck.

White-fronted Bee-eater

Whiskered Tern
Barberspan itself was very windy when we got there and the dam is very full making for reduced mudflats/lakeshore verge birding. Waders seen included all the common species such as Greenshank, Curlew Sandpiper, Common Ringed Plover and others. A pair of South African Shelduck shepherded a large flotilla of youngsters across the rough waters and out in the open waters numbers of Great-crested Grebe were seen.

Other species seen at Barberspan included Goliath Heron, Whiskered Tern, African Fish-eagle, Common Squacco, Brubru, African Red-eyed Bulbul, Cloud Cisticola, Quail finch and Rufous-eared Warbler. A female Northern Black Korhaan was seen sheperding a small bundle of fluff away into scrubby cover. Then it was time to go, and we headed back to Johannesburg, less than 4 hours drive away!

Overall 208 species recorded in five days of birding with 63 endemics and near endemic birds !
Trip List - number = Roberts (6) number. For full list by locality, DOWNLOAD EXCEL FILE HERE (97KB)

1 Common Ostrich
190 Grey-winged Francolin
193 Orange River Francolin
199 Swainson's Spurfowl
203 Helmeted Guineafowl
100 Fulvous Duck
99 White-faced Duck
102 Egyptian Goose
103 South African Shelduck
116 Spur-winged Goose
115 Comb Duck
106 Cape Teal
105 African Black Duck
104 Yellow-billed Duck
112 Cape Shoveler
108 Red-billed Teal
113 Southern Pochard
480 Ground Woodpecker
486 Cardinal Woodpecker
465 Acacia Pied Barbet
473 Crested Barbet
459 Southern Yellow-billed Hornbill
451 African Hoopoe
452 Green Wood-Hoopoe
454 Common Scimitarbill
428 Pied Kingfisher
443 White-fronted Bee-eater
438 European Bee-eater
425 White-backed Mousebird
426 Red-faced Mousebird
386 Diderick Cuckoo
391 Burchell's Coucal
421 African Palm-Swift
418 Alpine Swift
412 African Black Swift
417 Little Swift
415 White-rumped Swift
373 Grey Go-away-bird
400 Cape Eagle-Owl
398 Pearl-spotted Owlet
349 Speckled Pigeon
355 Laughing Dove
354 Cape Turtle-Dove
352 Red-eyed Dove
356 Namaqua Dove
237 Red-crested Korhaan
0 Northern Black Korhaan
234 Blue Korhaan
209 Grey Crowned Crane
208 Blue Crane
223 African Purple Swamphen
226 Common Moorhen
228 Red-knobbed Coot
286 African Snipe
269 Marsh Sandpiper
270 Common Greenshank
266 Wood Sandpiper
264 Common Sandpiper
274 Little Stint
272 Curlew Sandpiper
284 Ruff
240 African Jacana
295 Black-winged Stilt
245 Common Ringed Plover
248 Kittlitz's Plover
249 Three-banded Plover
258 Blacksmith Lapwing
255 Crowned Lapwing
301 Double-banded Courser
315 Grey-headed Gull
322 Caspian Tern
338 Whiskered Tern
339 White-winged Tern
170 Osprey
127 Black-shouldered Kite
148 African Fish-Eagle
119 Bearded Vulture
122 Cape Vulture
152 Jackal Buzzard
118 Secretarybird
181 Rock Kestrel
182 Greater Kestrel
172 Lanner Falcon
8 Little Grebe
6 Great Crested Grebe
60 African Darter
58 Reed Cormorant
55 White-breasted Cormorant
67 Little Egret
68 Yellow-billed Egret
62 Grey Heron
63 Black-headed Heron
64 Goliath Heron
65 Purple Heron
71 Cattle Egret
72 Squacco Heron
96 Greater Flamingo
93 Glossy Ibis
94 Hadeda Ibis
92 Southern Bald Ibis
91 African Sacred Ibis
95 African Spoonbill
84 Black Stork
541 Fork-tailed Drongo
741 Brubru
743 Brown-crowned Tchagra
736 Southern Boubou
739 Crimson-breasted Shrike
746 Bokmakierie
703 Pririt Batis
547 Cape Crow
548 Pied Crow
550 White-necked Raven
732 Common Fiscal
735 Magpie Shrike
612 Drakensberg Rock-jumper
557 Cape Penduline-Tit
552 Ashy Tit
533 Brown-throated Martin
534 Banded Martin
520 White-throated Swallow
523 Pearl-breasted Swallow
526 Greater Striped Swallow
524 Red-breasted Swallow
528 South African Cliff-Swallow
529 Rock Martin
567 African Red-eyed Bulbul
706 Fairy Flycatcher
661 Cape Grassbird
651 Long-billed Crombec
653 Yellow-bellied Eremomela
635 Lesser Swamp-Warbler
643 Willow Warbler
621 Chestnut-vented Tit-Babbler
796 Cape White-eye
0 Orange River White-eye
672 Rattling Cisticola
671 Tinkling Cisticola
670 Wailing Cisticola
677 Levaillant's Cisticola
681 Neddicky
664 Zitting Cisticola
665 Desert Cisticola
666 Cloud Cisticola
667 Wing-snapping Cisticola
685 Black-chested Prinia
0 Drakensberg Prinia
688 Rufous-eared Warbler
645 Bar-throated Apalis
658 Barred Wren-Warbler
494 Rufous-naped Lark
495 Eastern Clapper Lark
498 Sabota Lark
497 Fawn-coloured Lark
506 Spike-heeled Lark
500 Eastern Long-billed Lark
515 Chestnut-backed Sparrowlark
507 Red-capped Lark
508 Pink-billed Lark
509 Botha's Lark
581 Cape Rock-Thrush
580 Groundscraper Thrush
0 Karoo Thrush
695 Marico Flycatcher
698 Fiscal Flycatcher
601 Cape Robin-Chat
615 Kalahari Scrub-Robin
596 African Stonechat
588 Buff-streaked Chat
586 Mountain Wheatear
587 Capped Wheatear
591 Sickle-winged Chat
589 Familiar Chat
595 Anteating Chat
769 Red-winged Starling
764 Cape Glossy Starling
759 Pied Starling
760 Wattled Starling
758 Common Myna
775 Malachite Sunbird
787 White-bellied Sunbird
806 Scaly-feathered Finch
799 White-browed Sparrow-Weaver
800 Sociable Weaver
813 Cape Weaver
814 Southern Masked-Weaver
821 Red-billed Quelea
824 Southern Red Bishop
827 Yellow Bishop
832 Long-tailed Widowbird
852 African Quailfinch
856 Red-headed Finch
846 Common Waxbill
844 Blue Waxbill
801 House Sparrow
803 Cape Sparrow
804 Southern Grey-headed Sparrow
805 Yellow-throated Petronia
713 Cape Wagtail
727 Cape Longclaw
716 African Pipit
717 Long-billed Pipit
872 Cape Canary
870 Black-throated Canary
878 Yellow Canary
881 Streaky-headed Seedeater
885 Cape Bunting
884 Golden-breasted Bunting