Notes from Mozambique and Zimbabwe - Summer of 2009/10

In early December, we headed up to Mozambique with a group of 10 birders. First stop was the Inn on Great Zimababwe, which produced the usual selection of miombo birds in the form of Miombo Tit, Southern Hyliota, Miombo Rock-thrush, Red-faced Crombec and Miombo-double collared Sunbird amongst others. Next day it was on a "cool" Bvumba, and the sight of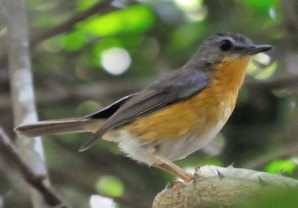 Samango Monkeys catching termites on the lawn. The Bvumba produced it's usual haul of specials including the nest of Red-faced Crimsonwing, and a Swynnerton's Robin sitting on it's nest in a hollow tree trunk. Apart from the typical Bvumba birds like Briar Warbler, Stripe-cheeked Greenbul, Chirinda Apalis and White-tailed Crested flycatcher, some of the group enjoyed excellent views of Buff-spotted Flufftail. After some birding in the Mutare area which produced Grey Waxbill, Whyte's barbet etc, we headed into Mozambique stopping en-route at the Pungwe bridge, where some odd looking common swifts were seen along with Dickinson's Kestrel, Mottled Spinetail and Collared Palm-thrush.

Gorongosa Mountain is now far easier than ever before and we had a successful trip up the mountain which produced Singing Cisticola, Anchieta's Tchagra, Moustached Grass-warbler and Broad-tailed Warbler, along with the usual haul of Forest birds. Eventually we had several views of Green-headed Oriole and a Pallid Honeyguide amongst others. The Nhambita area was as always excellent with Green-backed Woodpecker, Red-winged Warbler, Raquet-tailed Roller, Arnot's Chat and Orange-winged Pytilia being among the species recorded here.


Next day it was on to Rio Savane and on this trip it was somewhat dry. We did manage to locate Black-rumped Buttonquail and most of the group had excellent views of Locust Finch in the grass. Great Bittern was also seen and some also had views of Lesser (Mongolian Sand Plover) and Red-headed Quelea.


By the time we arrived at Catapu to bird the coutada's there had been several reports of Pitta's being seen in Coutada 12, but we endured a mini-drought and it was not easy to locate the birds. On day 2 we managed to get the whole group onto a foraging Pitta and this was a co-operative bird which one of the group described as a "tame garden bird". This bird allowed a close approach as it nonchalantly foraged on the leafy forest floor. Much harder to see well is the "Ghost Bird" or White-chested Alethe. In December we located a nesting pair, which allowed everyone in the group to get binocular views of a perched bird - really very special! East Coast Akalat is also common in the area, but can be a real challenge to see well - which most of the group did.

January 2010 A January trip to Mozambique and Zimbabwe found the region in the grip of an unexpected drought. This made birding a little harder than usually the case, but of course "less exciting" is still an incredible birding experience. Top birds on the trip included Collared Flycatcher, African Hobby, Twinspot Indigobird, Great Snipe, White-chested Alethe and Corncrake. I personally had the good fortune to come across a nice Barred Long-tailed Cuckoo and we had one of the small cuckoos that is perhaps best described as "probable Madagascar Cuckoo" at Rio Savane. Most of the usual Moz/Zim specials were seen including good views of Locust Finch, Cuckoo Finch, Chestnut-fronted Helmet-Shrike, Vanga Flycatcher, Livingstone's Flycatcher, Silvery-cheeked Hornbill, Swynnerton's Robin, Black-headed Apalis, Miombo Glossy-Starling and a host of others

With hot dry weather the search for Pitta's was always going to be difficult, give the vast tracts of habitat these birds inhabit. However we did hear two birds calling and after a rush through the forest I was able to locate the one bird doing it's characteristic hop on a bough some 30 feet above the forest floor. Unfortunately the bird did not return to the area and we were not able to relocate it. The Lowland forests east of Inhamitanga experienced extreme stress with the heat and drought and green leaves fell like snow onto the forest floor. We were however able to locate three pairs of the highly elusive White-chested Alethe which was well seen by half the group. Despite the hot dry weather, African Broadbill's and Narina Trogon as well as Mangrove Kingfishers were very much in evidence in the woodlands of the Zambezi Basin, while Akalat's seemed much more scarce than in December.

The bridge of the Zambezi is a superb monument to donor aid, and has changed the vibe around the Zambezi for ever. Specials in the area included Lesser Jacana, Allen's Gallinule, Red-necked Falcon, Anchieta's Tchagra and African Marsh Harrier. A variety of warblers was also seen in the area.

En route South we recorded Silvery-cheeked Hornbill, Honey Buzzard, and in a clearing near Inhaminga had both Purple and Twinspot Indigobird in close proximity which allowed for close observation of the differences. (We actualy saw all four indigobirds in breeding plumage on this trip).
The observation of this duo of very similar indigobirds in association with their host species (Jameson's Firefinch & Re-throated Twinspot) was a real bonus. As has been observed before, leg colour of indigobirds is often problematic, given the effect on variable light conditions and the background against which one views the legs. After a period of observation of the two birds in question in different positions, the following rule of thumb was observed regarding the leg colour. When viewed against the light (ie silhouetted) Purple Indigobird appeared to have reddish legs, but when viewed with good light and against a dark background these legs appeared to lose colour and become pinkish. For Twinspot Indigobird, the legs also looked reddish against the light, but when viewed against a dark background with good light, the legs gained in colour, appearing even richer in colour (orangy tint). In my experience the green sheen on Twinspot Indigobird is fairly obvious early in the season (ie January), but may fade to a more amorphous blueish-purple later on in the season (ie by April).

Rio Savane is perhaps slowly declining as a birding mecca, due to increased human activity, particularly away from the conservation area near the estuary. Nevertherless one of the group was fortunate to spot a flying Great Bittern, and we had several sightings of Buttonquails, both Kurrichane and Black-rumped. On this occassion we had to work hard to get decent views of Locust Finch, but had better views of Great Snipe than during the December Trip. A very nice pair of Copper Sunbird were seen and photographed in some Casuarina Trees, while the nearby estuary produced Sand Plover and great views of Terek Sandpiper. A new area close to Beira produced plenty of waterbirds and excellent views of African Crake, and some Red-headed Quelea, but the Black Coucals kept their distance. Around Nhambita camp, we explored a new area along the Vanduzi and Pungwe rivers where specials included Honey-Buzzard, Thick-billed Cuckoo and Miombo Glossy-Starling.

This trip was to prove to be a special for Collared Flycatcher and we had sightings of a male in Full breeding plumage just outside Mutare in Zimbabwe. On this trip we did a short extension to Harare,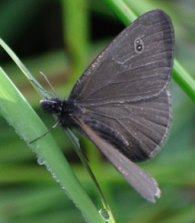 stopping en-route to bird Gosho Park. Here we picked up Orange-winged Pytilia, Whyte's Barbet and another Collared Flycatcher among others.

Around Harare it was also very dry, which meant that the birding of the Dambos in Harare was never going to produce the bonanza it often does in the wet season (With Streaky-Breasted Flufftail, Blue Quail and Striped Crake regular). However Monavale Vlei produced Ovambo Sparrowhawk, African Crake, Corncrake, Black Coucal and several beautiful Yellow-mantled Widow among others. Marlborough Vlei was also good with better views of Black Coucals, Cuckoo Finch, many Yellow-mantled Widow, Marsh Warbler and others. Jono Francis shared his enthusiasm for the rare Mashuna ringlet (Mashuna mashuna). North of Harare we located a variety of Miombo Birds including Spotted Creeper and Southern Hyliota. We also saw Icterine Warbler, Cuckoo Hawk and a female Collared Flycatcher, the third for the trip.