Green Tinker-bird proves that it's not lost - even when the fat lady has been singing for quite a while !!
"We are standing on a rough sand track underneath a tall Pod Mahogany in the Massinga district of southern Mozambique. Fifteen metres above our heads an Eastern Green Tinkerbird (Pogoniulus simplex)is singing its heart out. Our necks are starting to ache as we search the canopy for the bird with our binoculars. At last we catch sight of the tiny olive-grey bird, its throat puffing rhythmically as it beats out its trilled song. It is the first Green Tinkerbird to be seen in southern Africa in fifty-five years."
Hugh Chittenden and Greg Davies, January 2013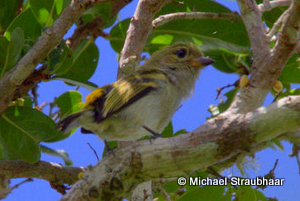 Most of the Credit must go to Greg Davies, Curator of Ornithology at the Ditsong (Transvaal) Museum. The search had begun many months before amidst the leather-bound journals and books in the library of the Museum. Tucked away in one of the little-visited corners of the library was an obscure scientific periodical called the Boletim da Sociedade de Estudos de Moçambique. It was an article from 1959 in this journal by António da Rosa Pinto, ornithologist at the Museu de Historia Natural in the then Lourenço Marques, that contained important clues for narrowing the search area for simplex (Rosa Pinto 1959). Most importantly the bird had been collected near Chicomo - which lies in Southern Mozambique - about 50km inland from Pomene.

Greg Davies is passionate about Mozambique and it's birds and conducted a search in the winter of 2011 to the Bobiane
area. Satellite imagery showed there was some significant if highly fragmented blocks of forest, which had been contiguous in the recent past with the smaller scraps persisting near Chicomo village. After this trip failed to find anything, Hugh Chittenden, Author of the Roberts Guide to the Birds of Southern Africa, suggested that summer would be a much better time, since the birds were more likely to be vocal.

After several days of searching, Chittenden and Davies finally located a singing bird on 17 January 2013, and then located several more pairs in an area between Bobiane and Unguane - a small village on the EN1 some 33km north of Massinga.

On February 19, Indicator Birding became the first birding tour operator to relocate the bird, which was sound recorded and photographed. Our Swiss client, Michael Straubhaar had the privelege of being perhaps only the 3rd person to knowingly identify this species in Southern Africa in 55 years !!

The area is a type of coastal scrub-thicket with emergent larger trees here and there. Other birds seen included Livingstone's Flycatcher, Eurasian Honey-Buzzard (6 of them !!), Woodward's Batis, Nicator ,Eastern Bearded Scrub-Robin, Bohm;s Spinetail, African Cuckoo-Hawk and Red-throated Twinspot. We found at least four birds calling and were able to capture some images and sound recordings.

Birding was quite tricky since the bush is quite dense, but in summer the birds are quite vocal. It seems that they may be twitchable at other times of year as well and other groups have seen the tinker-bird as recently as 5 May.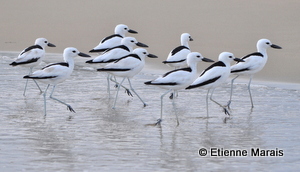 The rest of the trip was also fantastic as we birded the Nkomati Floodplain, Inhambane, and then headed up to Beira and Catapu. Good birds included Sooty Falcon, Crab Plover, Striped Crake and another mega in the form of BASRA REED-WARBLER !! Mphingwe produced most of the usual goodies with views of Easts-coast Akalat, White-chested Alethe, Black-headed Apalis, Madagascar Cuckoo and others. The Nyanga highlands were great with excellent views of some of the forest specials such as Yellow-bellied Waxbill and Chirinda Apalis. We also recorded Scarce Swift and Blue Swallow. We rounded off the trip with a visit to Gosho Park and Harare, where we ticked species like Spotted Creeper, Rosy-throated Longclaw and Streaky-breasted Flufftail.

This year (2013) we will be back at the Green Tinkerbird location on our classic winter trip (which includes the Green-headed Oriole and Olive-headed Weaver sites) as well as a special search for Bohm's Bee-eater. In December our Pitta Trip has been modified to include the Tinkerbird site, and of course we will be doing a Basra/Streaky-breasted flufftail trip again next February.


Recordings of Green Tinkerbird: 19/02/2013.
Please note that these calls are provided to birder on the basis that they will use them responsibly.

Download basic piping call of the Green Tinkerbird at Unguane
Download trilling note of the Green Tinkerbird at Unguane




---