FEATURES SECTION
Gymnogene and Green Woodhoepoe interaction - a case of a bird feeling pleasure?
Posted 16 July, 2003 Birding always has the capacity to offer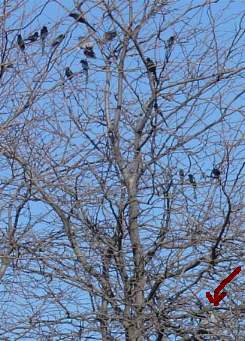 up surprises. On July 16 I went out into my garden to try out some digiscoping, using a Sony Cybershot camera. Before I had found a good subject, a loud commotion was heard as no less than 17 Green Wood-hoepoes expressed their raucous alarm at at an unusual intruder. A Banded Harrier Hawk (Gymnogene) then came sailing between trees, and and landed in a tree overlooking my garden in Wierda Park, Centurion (The Southern part of Pretoria, just 30 miles from Johannesburg).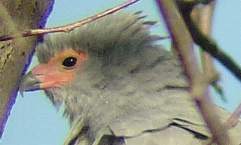 The Banded Harrier-Hawk is a large, versatile raptor, with multi-jointed legs, which enable it to prey on hole-nesting birds. Apparently it had extracted a nestling from the nest tunnel of the Green Wood-hoopoe, and unusually for this communal species, at least two family groups of this species had banded together to mob the predator.

Close examination revealed that the Gymnogene had a nestling of some sort in it's talons, which it then proceeded to eat at it's leisure. After it had finished eating, it proceeded to preen and then appeared to take "forty winks" and simply relaxed. However during this process, I noticed that the facial skin slowly changed colour. When the bird was first observed, the bare facial skin which it has, was a pale yellow colour. However, once it had finished eating, and started preening the colour changed and the yellow became more orange and pink in colour. This was particularly noticeable at the point at which the Gymnogene seemed to be dozing off - and closed it's eyes for a short period. The impression was that the bird was enjoying the little rest, and perhaps even day-dreaming?

The series of colour changes observed in the bird over a 20 minute period can be seen here

This colour change is very obvious when the bird is displaying, and is also thought to be related to temperature change, but if the colour change is linked to emotion, perhaps the colour change can also be linked to pleasurable emotions?

Please send any comments on this story to Etienne Marais

Larger Photographs

Colour change sequence

More about the Gymnogene (Banded Harrier Hawk)

More about the Green Wood-hoepoe