Day Trip Itineraries
Zaagkuildrift and Kgomo-Kgomo Floodplain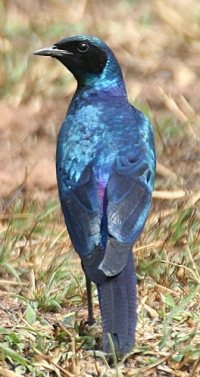 This area, to the north of Pretoria is one of the most bird diverse habitats anywhwere. We have recorded over 160 species here by 08:30 in the morning!! Birding focusses on the prime acacia woodland habitat along the Zaagkuildrift Road. Apart from holding an excellent diversity of typical african birds such as Hornbills, Barbets and mousebirds, this area provides the opportunity to see a number of "North-western" species such as Northern Black Korhaan, Kalahari Robin, Crimson-breasted Bush Shrike, Southern Pied Babbler, Cape Penduline-tit, Black faced Waxbill, Ashy Tit and Barred Warbler. We will also encounter a host of other regional endemics such as Shaft-tailed Whydah, Southern Yellow-billed Hornbill, Black-chested Prinia, Scaly-feathered Finch, Great Sparrow and Pale Chanting Goshawk.

The Kgomo-kgomo floodplain is variable depending on season, but always offers something interesting. The dry plains usually hold Temminck's Courser, Chestnut-backed Finchlark, Red-headed Finch and Capped Wheatear. When inundated this area can become a veritable paradise for waterbirds, and species on offer include Black Heron, Greater Painted Snipe, Lesser Moorhen, Allan's Gallinule and in some years, Striped Crake.

In summer the area is excellent for migrant cuckoos, bee-eaters and paleactic warblers, while in winter waxbills are particularly conspicuous and flashy endemics such as Crimson-breasted SHrike and Southern Pied babbler are relatively easy to see.





Ezemvelo to Dinokeng Woodlands - grassland and woodland birding in Dinokeng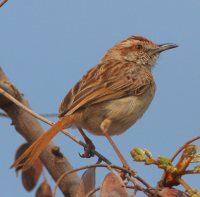 This outing focusses on interesting grassland birds, including a number of Larks difficult to find elsewhere. Our star bird is usually Melodioius Lark - common here, and we often also see Fawn-coloured, Eastern Clapper and Eastern Long-billed Lark. Other typical grassland species include Cloud and Wing-snapping Cisticola, a variety of bishops and widows, Southern Ant-eating Chat and Greater Kestrel. Also possible are Orange-river Francolin, White-bellied Korhaan, Blue Crane and Denham's Bustard. We may also do rocky and riverine areas in the Trichardtspoort area, or at Ezemvelo, where Mocking Cliff-chat, African Finfoot, Half-collared Kingfisher, Striped Pipit and Brown-backed Honeybird occur. In the afternoon we concentrate on woodland where Tinkling Cisticola occurs, and here we may also see species such as Coqui Francolin, Striped Kingfisher, Pallid Flycatcher, Fawn-coloured Lark and Green-capped Eremomela.

Suikerbosrand and Marievale

Suikerbosrand, 50km South of Johannesburg offers a variety of endemic larks, francolins and chats. Grassland species in this area include the endemic Melodious, Eastern Clapper, Eastern Long-billed and Spike-heeled Lark. Francolins are particularly well represented and one may encounter Orange-river, Redwinged, Grey-winged Francolin or Swainson's Spurfowl. Redthroated Wryneck and Mocking Cliff Chat are both present. Other specials include South African Cliff Swallow, Grass Owl, Red-eyed Bulbul, Cape Rock Thrush and African Pied Starling. In winter, Fairy Flycatcher, Black Harrier and Sentinel Rock-thrush occur, and we have even recorded Yellow-breasted Pipit. The reserve also offers an excellent diversity of mammals, including the endemic Black Wildebeest, Suricate and Red Hartebeest.

In the afternoon we will head northwards for Marievale Bird Sanctuary, with its excellent diversity of wetland birds. These will include species such as Goliath Heron, Cape Shoveller, Black Heron, African Snipe, Whiskered Tern, Little Bittern, Yellow Canary and Fantailed Widowbird.

Borakolalo National Park

Borakolalo is a 14 000 ha reserve, north-west of Pretoria, which supports a variety of different habitats, and also has the Klipvoor Dam. The area offers a variety of woodland and lakeshore birds. Typical woodland species include Meyer's Parrot, Grey Tit-flycatcher, Striped, Pygmy and Woodland Kingfisher, Kurrichane Thrush, Burchell's Glossy Starling, Striped Kingfisher, Yellow-throated Petronia, Pearl-breasted Swallow, Brown-hooded Kingfisher and Grey-headed Bush-shrike. Depending on conditions, we may also see Dwarf Bittern, Harlequin Quail, Dusky Lark and Double-banded Sandgrouse. The reserve is good for Woodpeckers and Honeyguides and the river is a good place for the elusive African Finfoot here. Other specials on offer here include Short-toed Rock Thrush and Striped Pipit.

The lakeshore is often worth exploring and here we expect to see a host of Herons, egrets and ducks, as well as plenty of African Fish Eagle and Great Crested Grebe. Mammal watching can be excellent and one may see Giraffe, White Rhinoceros, Kudu and Black-backed Jackal.


Note that Day Trip itineraries, are fully customisable in terms of time available, birdng objectives and species you would like to see.
to Enquire about a day trip please use our online form here
---