FEATURE ARTICLE
Zaagkuildrift and Kgomo-Kgomo - our top Summer, Autumn and Winter birding Destination ?


(adapted from our coverage of this area in the Chamberlain Guide to Birding Gauteng p109-114)

By Etienne Marais. One of our favourite localities for all round excellent birding, This always delivers great birded into the winter. This locality is just 80km from Pretoria and 115 km (1 hour 10 minutes) from O.R. Tambo International Airport.

The rather modest looking stretch of gravel road is reached just north of the hamlet of Pienaarsriver and starts with wide open grassy plains. It roughly follows the Pienaars river for 25km taking one through a mosaic of acacia woodland. This Acacia woodland is very rich in birds and the area offers a big diversity of both resident and migrant species. After 25km the road descends onto an expansive flat area, and there the Kgomo-kgomo floodplain begins.


While the area is undoubtedly at it's best in summer, Nevertheless, good birding is possible throughout the year, e.g. the winter months are great for waxbills and specials like Southern Pied Babbler, Crimson-breasted Shrike and Barred Wren-warbler are more confiding and dry-country vagrants such as Lark-like Bunting may be present. Of interest to photographers (or birders with cameras) is that many of the waxbills and other seed-eaters are easier to find and photograph in winter as they are attracted to the more limited water-sources. A typical winter day outing can produce around 100 species. Species which you can see in winter include:
Black-chested Snake-Eagle, Gabar Goshawk, Southern Pale Chanting Goshawk, Swainson's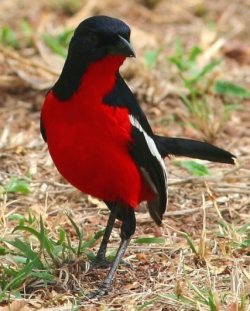 Spurfowl, Natal Spurfowl, Northern Black Korhaan, Temminck's Courser, Southern White-faced Scops-Owl, Burchell's Coucal, Southern Yellow-billed Hornbill, Southern Red-billed Hornbill, White-backed Mousebird, Acacia Pied Barbet, Sabota Lark, Chestnut-backed Sparrowlark, Southern Pied Babbler, Ashy Tit, Southern Black Tit, Cape Penduline-Tit, White-throated Robin-Chat, Kalahari Scrub-Robin, Chestnut-vented Tit-Babbler, Burnt-necked Eremomela, Barred Wren-Warbler, Marico Flycatcher, Crimson-breasted, Shrike, Southern White-crowned Shrike, Burchell's Starling, Great Sparrow, Red-headed Finch, Scaly-feathered Finch, Shaft-tailed Whydah, Black-faced-waxbill, Jameson's Firefinch and Violet-eared Waxbill & Lark-like Bunting.

Apart from the very rich woodland along the way, the Kgomo-kgomo floodplain itself offer very interesting "dry plain habitat in winter and Temminck's Courser, Chestnut-backed Sparrowlark, Cut-throat Finch, Yellow Canary and White-backed Mousebird all occur.

Summer birding

The Zaagkuildrift area stands out for several reasons. One of these is the number and variety of palearctic warblers that are present in acacia woodlands along the Pienaarsriver floodplain. Most common are Willow and Marsh Warblers, but these are joined by Icterine Warbler, Great Reed Warbler, Olive-Tree Warbler, Common White-throat and even a few Garden Warblers. Around the wetlands areas one can see African Reed, Lesser Swamp, Little Rush and Sedge Warblers. The real special of the area is River Warbler and this is a focus of an annual weekend we hold (Click here for more information).

The second biggest attracttion of the area is the wetland birding. The vast Kgomo-kgomo floodplain is inundated for 27 square km when full and attracts large numbers of waterbirds. The bridge and raised road at Kgomo-Kgomo is an excellent vantage point When the floodplain is fully inundated the bridge overlooks a mosaic of flooded grasslands, lily-covered pools and small exposed mudlfats. If possible, plan to arrive early in the morning particularly if you're after crakes! Lesser Moorhen arrives rapidly after the
occurrence of a flood and starts breeding immediately—carefully scan for them swimming in flooded grass. Allen's Gallinule is more likely to be seen flying low over the reeds and sometimes clambers awkwardly onto patches of taller grass. The crakes are notoriously difficult to see and Striped Crake is somewhat erratic in occurrence, preferring shallow areas with dense grasses (such as the area around lower crossing at the Plat river north of the main bridge). Spotted and Baillon's Crake are occassionally seen crossing or foraging around open pools. areas with shallow floodedthe best strategy is to patiently watch more open spots (e.g. where the vegetation meets a muddy patch).

Check open patches for Yellow Wagtail and waders such as Common, Green, Wood and Curlew Sandpipers, Ruff, Three-banded and Common Ringed Plovers and Little Stint. Overhead, look for Amur and Lanner Falcons, Lesser Kestrel, Blue-cheeked Bee-eater (Nov-Mar), Red-breasted Swallow and Black-winged Pratincole (the latter might also be seen roosting on the floodplain edges). Four species of harriers occur: Montagu's is fairly common in summer, and is occasionally joined by Pallid Harrier, African Marsh-Harrier and even Western Marsh-Harrier. On the floodplain edge (where bare ground meets scattered Acacia trees) you're likely to see Lilac-breasted Roller, Shaft-tailed Whydah, Lesser Grey Shrike and occasionally Great Spotted Cuckoo which parasitises Burchell's Starling. A late return along the Zaagkuildrift road can be rewarding in terms of night birding. Apart from the common Spotted Thick-knee, you're likely to encounter many owls and nightjars including Southern White-faced Scops-Owl (common but often inconspicuous), Verreaux's and Spotted Eagle-Owls, Marsh and Barn Owls and (particularly in the grasslands near Pienaarsriver town) African Grass-Owl. In summer, Bronze-winged Courser occurs regularly.

Etienne Marais
Indicator Birding