Birding and Tour News:
20 January 2004 - Day Trip ex-Johannesburg
Indicator Birding runs regular day trips from Johannesburg and Pretoria, and this account of the trip on 20 January, with David and Sue Ross-Stewart, give an idea of what can be seen in this area.


Day Trip Participants: David and Sue-Ross Stewart
Guide: Etienne Marais
Area covered: Pienaars River Valley, Kgomo-kgomo and Rooiwal Sewerage Works
Species Recorded: 149 (20 heard or seen guide only)
Despite a seemingly prolonged deluge of rain, we were able to start birding on arrival in a patch of pristine grassland north of Pretoria, where Northern Black Korhaan, called, and White-winged Widow, Zitting and Desert Cisticola displayed. The day's first raptor, a Steppe Buzzard kept watch on us as we enjoyed the early morning freshness and despite intermittent drizzle, were able see some excellent birds.

A small dam produced excellent scope views of a variety of ducks and herons, including African Black Duck. A threesome of Squacco, Greenbacked Heron and Little Bittern hunted around the fringes, the latter requiring some patient watching before good scope views were obtained. Several African Jacana also frolicked on the shoreline. Nearby Brownhooded and Woodland Kingfisher called, before the latter was located in the scope, sitting on a dead tree uttering it's powerful cry.

Further on, a flock of Southern Pied Babbler were seen in some sort of interaction with two Gabar Goshawks, one being the uncommon melanistic form. Shortly afterwards an immature Ovambo Sparrowhawk also appeared in the vicinity, before flying high and fast into the distance. Lesser Grey and Redbacked Shrikes were much in evidence, and a splash of colour was provided by a treeful of Southern Carmine Bee-eaters.

In the dry woodland of a nearby cattle ranch, we had the opportunity to walk freely, and saw a host of birds including the regal Burchell's Glossy Starling, Crimson-breasted Shrike, Chinspot Batis and a host of waxbills, including Black-faced Waxbill and Jameson's Firefinch. A young Greater Honeyguide and adult Lesser Honeyguide were also well seen. The brood parasites were very active and we had excellent views of resplendent male Shaft-tailed and Eastern Paradise Whydahs, as well as a male Village Indigobird, which called from a high perch.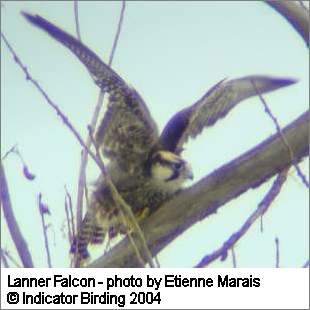 On to the Sewerage Works for some more waterbirds. Here we saw a host of ducks, terns, herons and other waterbirds, and spent some time watching a young lanner perched on a high tree. A patch of reeds and shrubs offered a host of warblers, and we saw several European Sedge Warblers hopping about. A large flottilla of Southern Pochard on the one dam gave way to a group of White-backed ducks on another dam. Here we also saw Yellow Wagtail, Whiskered Tern, African Darter and a host of shorebirds, before the time on this wonderful day ran out. The last sighting on the list was a flock of some 60 Amur Falcons perched on powerlines. Etienne Marais